The scrapbook of social media has announced that it has improved its guided search in order to allow its users to access gender-based pages, in a bid to increase its appeal to a currently limited male audience.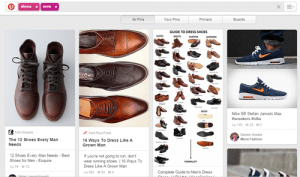 Pinterest's users are 80% female, and so this move could help to bring about a shift in this balance.
The improvements will allow users to search for posts whilst specifying which gender option they are looking for – for example, a user could search for 'shoes'  and then specify whether to filter in only men's or women's options.
The changes could suggest that the platform is working on making ad targeting more effective and beneficial to brands, following reports that Pinterest is struggling to provide value for marketers.
Other social media platforms, such as Facebook and Google have worked on improving their search options in the past year, enabling impressive ad-targeting capabilities for advertising brands, and so this looks like the beginning of a bid to get up to speed and unlock the wealth of opportunities the platform could provide for marketers.
To find out more about which social media platforms could help you to engage with your customers – whether they're other businesses or consumers, get in touch and speak with a marketing specialist on 01858 445543 or email [email protected]