Press releases are so important for generating awareness of your business and the services you provide. Perhaps what is important to remember about press releases is that they are not an advert.
Press releases are there to encourage editors and journalists in national, local or trade publications to publish a story to give your business exposure. They can also be self-published by a business in newsletters or in a blog post.
PR remains a great way of generating business, but in order to be successful, PR must be published. To optimise how many of your press releases are picked up by publishers, here are 5 things you should avoid putting in PR articles: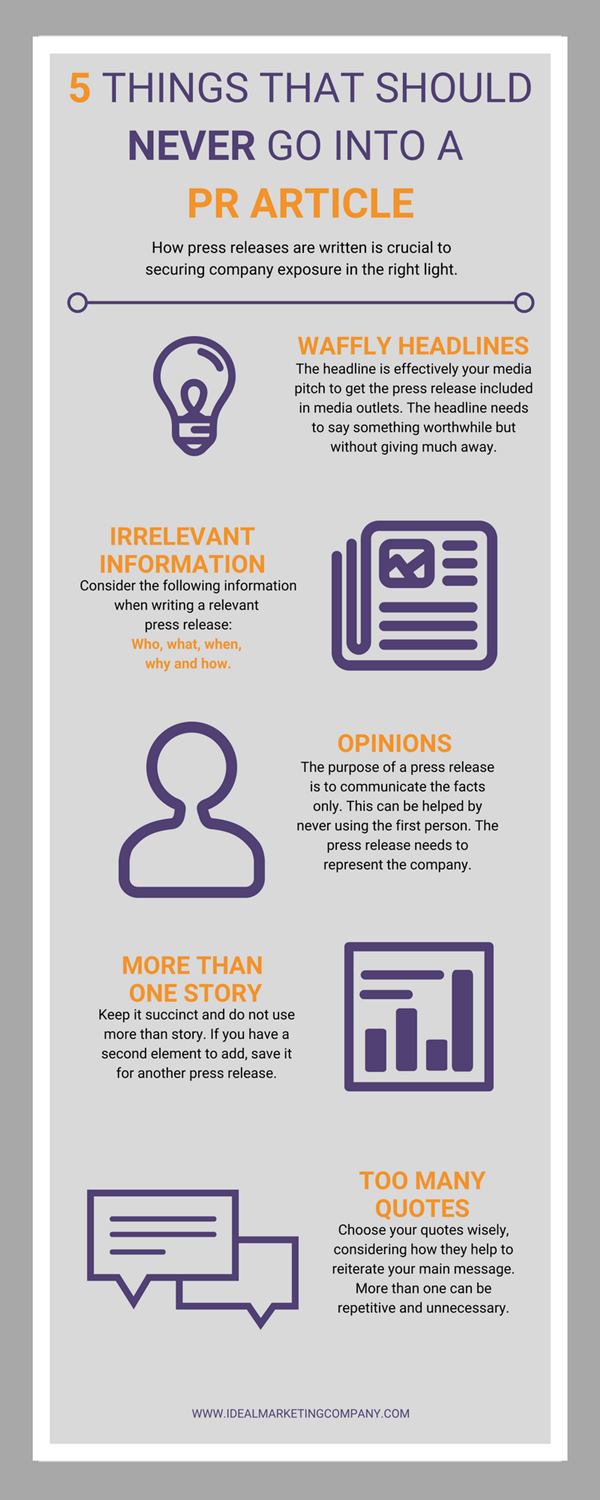 Do not use waffling headlines
Headlines are the most important element of any piece of journalism. If a press release does not pique the interest of your reader, the story might not make it into any press. It must be clear about what the story is about without being too waffly or long-winded. Make sure your headline highlights what the story is about without being too ambiguous or giving too much away.
Do not use irrelevant information
Press releases need to communicate a message efficiently whilst still covering all the essential and relevant information. It needs to answer who, what, where, when, why and, lastly, how. For example, a press release for a hotel sponsoring a charity coffee morning would need to include the following information:
Who: Hotel
What: sponsoring a charity fundraising coffee morning
Where: in the tearoom of the Hotel
When: every other Thursday at 10am
Why: to support a local, important charity
How: the Hotel will be sponsoring a regular charity coffee morning by providing the venue of their tearoom and covering the cost of the refreshments.
By simply answering this key information, you will avoid writing anything distracting and irrelevant.
Be careful to not include opinions
It is absolutely crucial that you do not share opinions and this can be avoided by using the third person. Press releases are used to communicate the necessary facts of your story while framing it in a positive light. Therefore, aim to write press releases in third person and only include the first person in direct quotes.
Do not include more than one story
Again, it is important to be succinct with your information. A press release needs to be limited to one story to avoid diluting messages and therefore making them less effective. If you are tempted to include a second story, write a second press release.
Do not over-quote
It is also worth noting that including too many quotes distracts from the story. Make sure that the quotes you use acknowledge a relevant spokesperson for the story (such as the CEO or an important client or sponsor) and that the quote adds something extra to the story that has not already been said.
Advice about press releases
To speak to someone with experience of writing press releases, contact a member of our team today and we'll be happy to help. Call us on 01858 445543 or email info@idealmarketingcompany.com