Seminars from The Ideal Marketing Company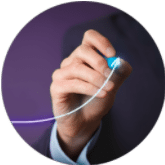 'How to Measure Digital Marketing Success with Google Analytics' will help you to discover how best to utilise Google Analytics for your business as part of Leicester Business Festival 2018.
Find out more
Book a speaker from The Ideal Marketing Company

Whether it's digital marketing or goal setting ideas for business owners, The Ideal Marketing Company can speak at your networking event, business conference or staff meeting.  We have delivered presentations at venues as large as the NEC and Olympia as well as hotel based conferences and even in house training for as few as 5 members of staff.  We have built up a range of industry specific talks to a range of sectors from recruitment to the motor industry and these can be adapted to suit the length and understanding in the room.  Contact us to check availability and discuss your individual requirements.
Keep up to date with the latest seminar news
If you would like to be kept up to date with news about marketing seminars running in your local area, please e-mail [email protected], state your town / city and we will send you information on any relevant marketing seminars taking place near you.
What others say about our seminars
"After leaving the seminar I felt like I could conquer the world – full marks for the venue, the food and the speaker"
Annette Hobbs, Shoestring
"Very enjoyable, lots of inexpensive ideas to implement and a good opportunity to meet with other business people"
Tracy Dixon, Archway House
"Great speaker and a really relaxed event. I will certainly be implementing these ideas and recommending future events"
Abdul, South Leicestershire College.
"Excellent, broad content that is ideal for smaller businesses, presented by a lively and articulate speaker"
Chris Williams, A perfect setting, Market Harborough
"Thank you for an excellent seminar. It has not only been a useful marketing refresher for me, it has given me many new ideas to explore"
Kate Bellamy, Pacesetter Sports, Lamport
"There were some new ideas along with timely reminders on marketing which I will work to incorporate in our company. Alastair is a great speaker and this was a very good seminar"
Alice Dove, The Garage Door Centre, Northamptonshire
"A very interesting seminar- I have certainly learned some new things to implement in my new business"
Charlotte Browning
"Very thought provoking – an excellent marketing seminar"
Chris Shepard, the Glass Fabric Company, Lutterworth
"A good overview of key marketing practices covering all the basics"

Louis Brooks, PCI Films
Let's have a chat
How can we help you to achieve more with your marketing?
For marketing advice specific to your business, speak with a marketing specialist on 01858 445543 or email [email protected]