The Ideal Marketing Company is a well-respected full-service marketing agency made up of specialists who are excited by high quality, results-driven marketing.
Situated in the heart of Market Harborough, we have a bright, spacious office where the high ceiling is the only limit when it comes to putting great ideas and innovation into practice.
Established in 2003, we have grown to cover all aspects of marketing and now require a Digital Marketing Executive to assist our digital team in the planning, execution and optimisation of our online marketing for a diverse range of clients.
What are we looking for?
By support we don't mean simply following instructions – you'll have autonomy to put marketing strategies into place and use tried and tested techniques to really make a difference.  In fact, the ideal candidate will have an enthusiasm for all things marketing and technological, using their experience to take initiative, identify marketing opportunities for our clients and be motivated to provide great quality online marketing.
What will you be doing?
Your role will cover all aspects of social media, website monitoring and updates, event planning, email newsletters and the basics of digital design.  There are of course opportunities to progress in each of these areas as you make the role your own.
What's in it for you?
The team here are real experts in their fields and there's a lot to learn from everyone.  In fact, we have a learning hour every week, where everyone is encouraged to switch off from work and switch on to learning about anything they like.
We work hard but smart.  We know people are more productive when they get chance for a break, so you'll be actively encouraged to take your lunch hour as well as to have a 15-minute break to go for a walk, check your messages or just relax at 11am every day.  The atmosphere is flexible and friendly; we celebrate achievements for our clients and for our own business, whether it's a new client, a viral post or a high ranking website.
We haven't set a specific salary as we want to see what you have to offer. We believe in rewarding hard work and commitment with competitive salaries as well as offering  above and beyond the statutory holiday entitlement.
The Ideal Marketing Company has doubled in size in the last three years. We are still growing and looking for someone who is eager to grow with us.  If you think you would make a great addition to our friendly team of marketeers, please send us your CV and any examples of your work.
Reporting to: Head of Digital Marketing
Location: Market Harborough town centre
Working hours: 9am – 5pm, 5 days a week with 1 hour lunch break (total 35 hours per week)
Salary:  Dependent on experience
Holiday: 22 days per annum plus day off for birthday if falls during working hours
Company pension: 2% of employee's qualifying earnings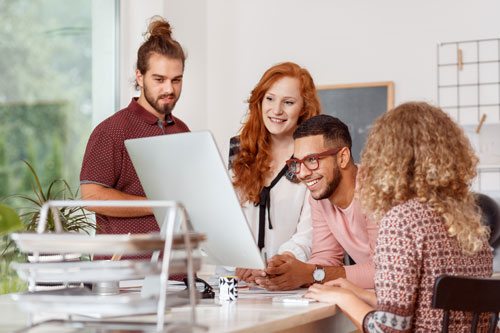 Role and responsibilities
Social Media
The role is to plan, carry out and monitor social media activity for a range of clients.  Duties include:
Setting up and managing social media pages for clients
Managing the social media pages for the Ideal Marketing company
Creating social media plans and strategy for clients
Creating social media posts for clients
Carrying out reviews of social media pages and making suggestions for clients to improve page visits and interactivity
Creating social media reports for clients with recommendations
Monitoring and responding to messages on social media accounts
Creating branded graphics to be used on social media (testimonials, facts, etc.)
Creating relevant artwork to be used on social media profiles
Creating organic and paid for social media campaigns in line with clients' business objectives
Reputation and crisis management
Reporting on campaign results
Websites
Monitoring client websites by running weekly checks
Updating HTML websites using Adobe DreamWeaver
Updating WordPress websites including page, post and event creation and updates
Optimising images for upload
Events
Helping to organise and promote regular events and seminars
Business Agenda
A monthly networking meeting with a speaker organised by the Ideal Marketing Company
Create Eventbrite page including updating details of the talk and speaker
Updating website to reflect event details
Sending email invite to regular list
Promoting via social media
Exporting attendee list and sending to venue
Updating slides for presentation
Seminars
Collaborating with colleagues involved with planned seminars
Creating Eventbrite page with details
Updating the Ideal Marketing website with event details
Inviting attendees over email
Promoting via organic and paid social media campaign pre and post event
Reporting on campaign results
Email Newsletters – Mailchimp
Creating MailChimp accounts for clients
Creating newsletters and email templates for clients
Producing and sending newsletters
Analysing success of campaigns and reporting back as required
Applications
Experience with the following applications is desirable but not essential
WordPress
Hootsuite
Adobe DreamWeaver and Photoshop
Google Analytics, Search Console and AdWords
Facebook Reporting
Facebook Business Manager
Microsoft Outlook, Word, Excel and PowerPoint
Canva
What next?
To apply please send your CV and a covering letter to [email protected]